OUR LIQUID
BRANDY WITHOUT BOUNDARIES
Aged, blended and bottled in Britain, our charentais distilled brandy is like no other.
We give you notes of caramel, full on fruit and an elevated, smooth finish.
Nose: Fresh orange juice & strawberries
Palette: Caramel, buttery crumpets & marmalade
Finish: Cherry cola and milk chocolate
Our brandy is distilled from four select grape varieties.
Trebbiano
Chardonnay
Sauvignon Blanc
Muscat Blanc
Wooden barrels are where brandy develops its character and colour.
We finish ours in a combination of four:
Ex-American Bourbon cask which held Spanish brandy
Ex-Pineau des Charentes
Ex-Cognac
Ex-Cherry Liqueur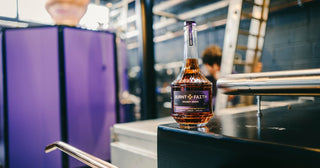 INTRODUCING
BURNT FAITH BRANDY BATCH 001